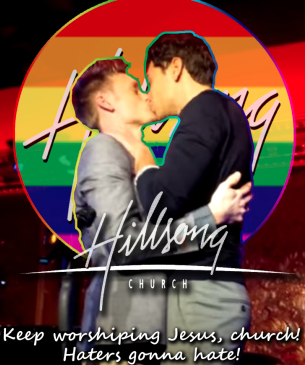 No one has a better handle on what's going on with Hillsong's background with the homosexual issue than Churchwatch Central, based in Australia. If you read and follow these well-researched sources, AND WATCH THE VIDEOS EMBEDDED (very important!), you will begin to understand an issue that has a lot of moving parts:
Thanks to our online ChurchWatch FaceBook community, we were alerted to an article which we published on Church Watch Central.

Now THIS is sexy entertainment!

It was the last paragraph that caused the major controversy:

"In their own lives, both Canfield and Kelly are devoted Christians. They attend Hillsong Church in New York City, where Canfield is a volunteer choir director, and despite the two being demonstrative on camera while filming "Survivor," Canfield said in a diary interview that the two are remaining abstinent until marriage."

A flurry of tweets, articles and headlines emerged around the article that was published by Broadway Tour. Of course, Chris Rosebrough was on it (as was Stand Up for the Truth):

Famous Gay Couple, who attend Hillsong NYC volunteer with the choir AND say they'll remain abstinent until marriage. http://broadwaytour.net/survivors-reed-kelly-josh-canfield-made-first-splash-on-broadway …

Source: Chris Rosebrough, Twitter, https://twitter.com/piratechristian/status/626378046124093444, Published 29/07/2015. (Accessed 05/08/2015.)

In this article, we will publish:

– Brian Houston's media statement that supposedly addresses this controversy (which we will critique in this article).
– Brian Houston's blog article that addresses his relations to homosexual people (which we will also address in this article).

In spite of his double-speak, Brian Houston has historically and more recently shown where he stands on same sex issues.

MEDIA STATEMENT: HOUSTON'S LIE # 1:

Because Brian Houston is vague on these issues, this shows where he does stand, although he comes across as a "double-minded man, unstable in all his way" (James 1:8).

However, we are openly calling out Brian Houston.