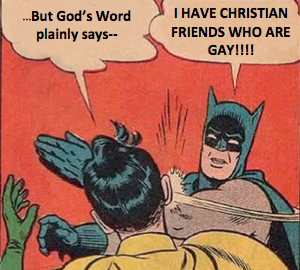 Stop the presses: Another progressive Christian pastor is "gay affirming."
Well, it's not exactly surprising that "The Message" author and retired pastor Eugene Peterson would announce that he has changed his mind on homosexual marriage and would perform a "gay wedding" in his own church.
The real news is that this really isn't about same sex marriages, or even homosexuality. The error is much bigger than that.
First, the hullabaloo: Folks are talking about a Religion News Service article penned by progressive Jonathan Merritt, in which Peterson states:
"I wouldn't have said this 20 years ago, but now I know a lot of people who are gay and lesbian and they seem to have as good a spiritual life as I do. I think that kind of debate about lesbians and gays might be over. People who disapprove of it, they'll probably just go to another church. So we're in a transition and I think it's a transition for the best, for the good. I don't think it's something that you can parade, but it's not a right or wrong thing as far as I'm concerned."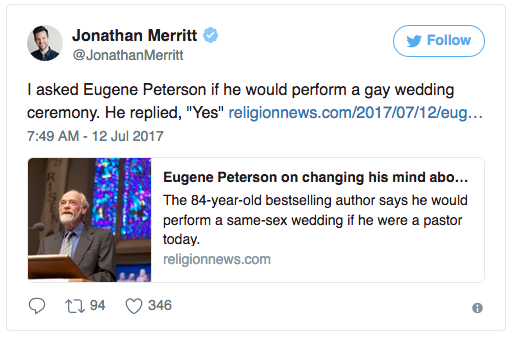 Merritt then asks a follow-up question:
"If you were pastoring today and a gay couple in your church who were Christians of good faith asked you to perform their same-sex wedding ceremony, is that something you would do?"
To which Peterson replied: "Yes."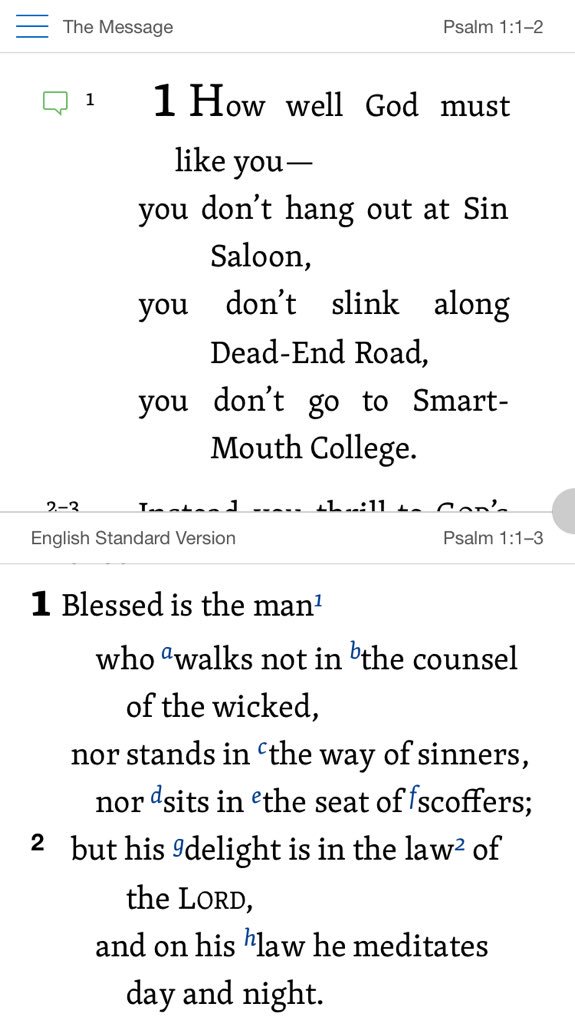 Merritt notes that in The Message, a paraphrase based on God's Word, Peterson left out any reference to homosexuality. In fact, The Message, which has been quoted from in many pulpits and popular books by celebrity pastors, changes many verses.
One only needs to compare the Lord's Prayer, or Pslam 1 to see the glaring differences.
Reaction has been swift. Those who rightly handle God's Word correctly call Peterson on the carpet:

…While Post-modern Christians are turning cartwheels:


So that's the news.  I have posted a number of warnings about Eugene Peterson as well as The Message, which you can see by clicking the links. You'll also want to read our White Paper on Progressive Christianity, as well as the Homosexual Agenda.
What is this really about?
I said before that this really isn't about homosexuality or weddings.  It's also really not about Eugene Peterson, at least as far as the Bride of Christ is concerned.  You see, what Peterson and other Postmoderns have always done is slyly hiss, "Has God really said?"  The error Postmodernity comes down to the authority of Scripture, as opposed to New Apostolic Reformation or other apostate movements where the sufficiency of Scripture is questioned/ignored. NAR adds to Scripture, Postmodernism subtracts from the truth of historical biblical Christianity/doctrine.
Next week I am participating in a Pirate Gang Roundtable over at Pirate Christian Radio's Fighting for the Faith on the topic of Postmodern thinking. Chris Rosebrough, Steve Kozar and Matthew Garnett, a former Evangelical pastor who was Emergent before Emergent was cool. We picked this topic last month, and it could not have come at a better time. I will post the podcast here as soon as we're done, or you can catch it live on Pirate Christian Radio on Wednesday, July 19 at 5 p.m. Central.