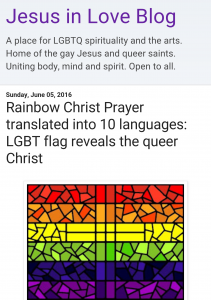 Not only is there a prayer to a "Queer Jesus," it has been translated in 10 languages for any apostate in the world to dishonor our Lord:
Rainbow Christ, you embody all the colors of the world. Rainbows serve as bridges between different realms: heaven and earth, east and west, queer and non-queer. Inspire us to remember the values expressed in the rainbow flag of the lesbian, gay, bisexual, transgender and queer community.
The prayer was posted on hypers progressive site, Jesus In Love, promoting a gay Jesus.
Lesbian author Kittredge Cherry and gay theologian Patrick S. Cheng wrote the prayer based on the seven models of the queer Christ from Cheng's book "From Sin to Amazing Grace: Discovering the Queer Christ."

Rainbow flags are flying around the world in June for LGBT Pride Month. Rainbows are also an important symbol in many religious traditions. The Rainbow Christ Prayer honors the spiritual values of the LGBTQ movement. 

Progressive Christians believe that homosexuality is not a sin. Scholars say that the Bible does not condemn loving same-sex relationships. Therefore LGBTQ people should be accepted and affirmed by churches. The Rainbow Christ Prayer expresses the belief that LGBTQ people are a natural part of God's creation.

The Rainbow Christ Prayer has been used by many progressive Christians for individual devotions and group worship. Conservatives denounced it as blasphemy. The translation process inspired grassroots theological reflection on a global scale. Each translator raised questions about a different aspect of the queer Christ: Does Rainbow Christ mean that Christ emits a rainbow or that Christ IS a rainbow? Is the Self-Loving Christ in love with himself? Do LGBT really feel shame about their sexuality? Is the Erotic Christ more about the power of life or about hot sexual practices? What does the Out Christ mean in cultures where there is no expression for "coming out of the closet"? In the Judeo-Christian tradition, the rainbow stands for God's promise to support all life on earth. The prayer also incorporates the chakra system of seven energy centers of the human body. The LGBTQ prayer takes on new meaning when read in a rainbow spectrum of languages from around the world.
---
© Amy Spreeman for Berean Research, 2016