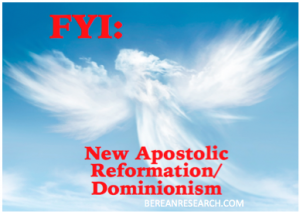 …NAR, the New Apostolic Reformation. … It is like Grape Nuts – it's not grapes and it's not nuts. It's like Christian Science – it's not Christian and it's not scientific. Well, the New Apostolic Reformation isn't new, it isn't apostolic, and it isn't a reformation. But it is a rapidly expanding movement being generated by some of the same old troubling false teachers and false leaders that have been around in Charismania for decades, always dishonoring the Holy Spirit, always dishonoring the Scripture, always claiming miracle signs, wonders, visions, dreams. ~ John MacArthur
The New Apostolic Reformation (NAR) is a dominionist movement which asserts that God is restoring the lost offices of church governance, namely the offices of Prophet and Apostle.
Leading figures in this seemingly loosely organized movement claim that these prophets and apostles alone have the power and authority to execute God's plans and purposes on earth. They believe they are laying the foundation for a global church, governed by them.
They place a greater emphasis on dreams, visions and extra-biblical revelation than they do on the Bible, claiming that their revealed teachings and reported experiences (e.g. trips to heaven, face-to-face conversations with Jesus, visits by angels) can not be proven by the 'old' Scripture. (Source)
Fast Facts:
Also known as Dominionism, Third Wave, Latter Rain, Kingdom Now, Joel's Army, Manifest Sons of God, Charismatic Renewal, Charismania.
Its founder was C. Peter Wagner who claims that the Church of the 21st Century will be ruled by Apostles and Prophets. Wagner has anointed himself NAR's "Presiding Apostle."
Linked with the Kansas City Prophets "who brought grandiose claims that a 'new breed' of super prophets were beginning to arrive on planet earth who would change the world forever"; likewise Word Faith and Pentecostal movements.
Not governed by an official denomination, it is led by alleged apostles and prophets.
Teaches that the new apostles and prophets are to be the government for the emerging "New Order" church.
Claims there will be a reformation greater in scale than the Protestant Reformation.
Claim direct revelation from God and many allege that Jesus and angels visit them in person. Some of them declare that they have visited heaven many times and had conversations with Jesus as well as the Prophets and Apostles.
NAR's extensive mission outreach throughout the globe has caused the astonishing church growth that's happening in Africa, Asia, and Latin America.
Denigration of the Bible and Sola Scriptura.
Experience oriented theology and based in emotionalism.
Steeped in mysticism.
Leaders:
The founder of the New Apostolic Reformation is church growth specialist C. Peter Wagner. Wagner served as Professor of Church Growth at the Fuller Theological Seminary's School of World Missions until his retirement. Until recently he was president of Global Harvest Ministries and is currently Chancellor emeritus of the Wagner Leadership Institute. Prominent member of the International Council of Apostles Chuck Pierce was his successor.
NAR "Apostles" and "Prophets":
Helpful articles:
Helpful sites:
What the Bible says: 
"But there were false prophets also among the people, even as there shall be false teachers among you, who privily shall bring in damnable heresies, even denying the Lord that bought them, and bring upon themselves swift destruction." 2 Peter 2:1